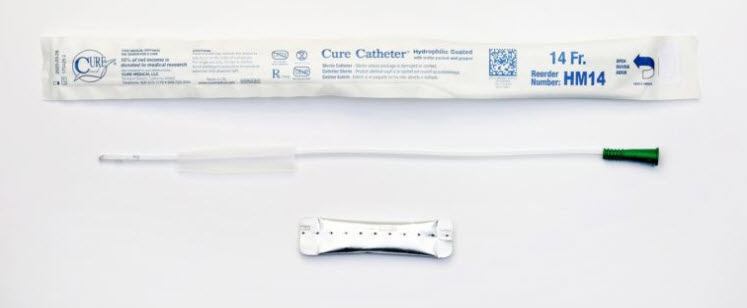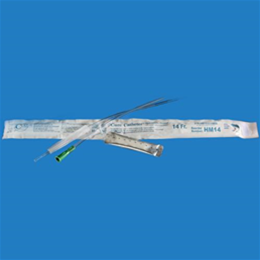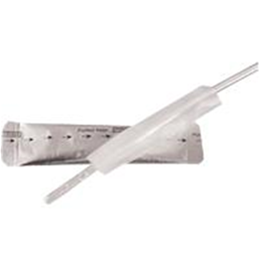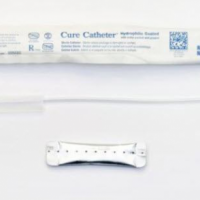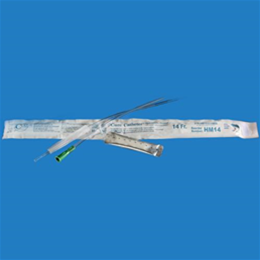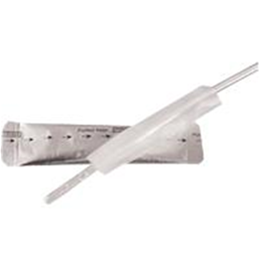 Cure Medical Hydrophilic Coated Male Intermittent Urinary Catheter features straight tip and smooth, fire-polished eyes to ensure comfortable catherization. It is a sterile, single-use catheter and features funnel ends and a hydrophilic coating. It i View more
Hydrophilic Cure Catheter®
The Hydrophilic Cure Catheter® for men is available with a straight or coude tip, and is not made with DEHP/DINP*, BPA or Natural Rubber Latex.
HYDROPHILIC CURE CATHETER® FEATURES
Cure Medical is proud to offer the ONLY sterile, single use hydrophilic catheter that features ALL of these benefits:
Smooth polished eyelets for increased comfort
Straight or coude tip
Available in French sizes 12-18
Hydrophilic coating for quick lubrication
Purified water packet for easy, mess-free/stain-free hydration
Textured advancer/gripper for clean, easy catheter insertion
High quality materials not made with DEHP/DINP*, BPA or natural rubber latex – learn more about the concerns with DEHP here.
Support of research in pursuit of a cure for SCI and CNS/D
Available in USA and Canada
VIDEO: LEARN MORE ABOUT HYDROPHILIC CURE CATHETERS
NOW AVAILABLE! THE NEW CURE HYDROPHILIC KIT
The new Cure Hydrophilic kit configuration includes:
a hydrophilic catheter,
ambidextrous gloves,
BZK wipe,
underpad, and
collection bag with universal connector.
Offered as a case of 90 units in French Sizes 12-16.
HOW TO OPEN HYDROPHILIC CURE CATHETER® PURIFIED WATER PACKET
Your Cure hydrophilic catheter contains a purified water packet inside the package that you should burst before removing the catheter from the packaging.
The easiest way to open the water packet is by bending your catheter package over, as shown in the picture below, and applying pressure as the water packet is folded.
Don't worry about your Cure catheter! You will not damage the catheter as you fold the package, because Cure catheters do not kink when bent.