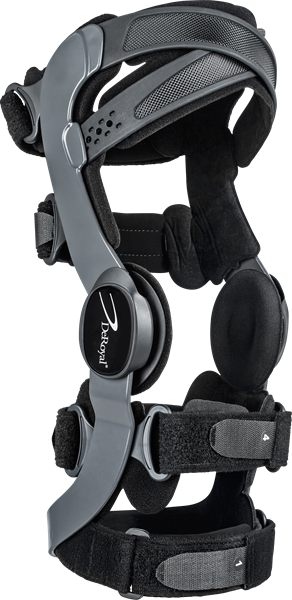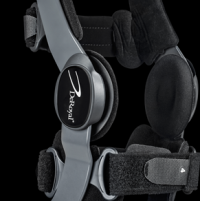 Features:
Features a unique thigh cuff that is flexible yet durable and enables optimal suspension, protection and comfort by moving with the muscles throughout the range of motion (ideal for LOW-CONTACT sports/use only.)
Aerospace grade aluminum frame is strong yet customizable.
Also comes in full-frame design (ideal for CONTACT sports/use.)
Posterior calf cuff reduces tibial pressure.
Interchangeable condyle pads for increased comfort, stability, and protection.
Numbered strapping system for intuitive application and removal.
Silicone gripped calf strap liner to help prevent migration.
Optional flexion/extension stops for range of motion control.
INDICATIONS
Mild to moderate ACL, PCL, MCL, and LCL sprains, Combined ligament instabilities
LOW CONTACT BRACE

| | | | | | |
| --- | --- | --- | --- | --- | --- |
| SIZE | MEASUREMENT 6" ABOVE MID-PATELLA | MEASUREMENT MID-PATELLA | MEASUREMENT 6" BELOW MID-PATELLA | LOW CONTACT LEFT | LOW CONTACT RIGHT |
| SMALL | 14½" - 17" | 11½" - 13" | 11½" - 13" | 14533105 | 14533205 |
| MEDIUM | 17" - 19½" | 13" - 15" | 13" - 14½" | 14533106 | 14533206 |
| LARGE | 19½" - 22½" | 15" - 17" | 14½" - 16½" | 14533107 | 14533207 |
| X-LARGE | 22½ - 25½" | 17" - 19" | 16½" - 18½" | 14533108 | 14533208 |
| XX-LARGE | 25½" - 30" | 19" - 22" | 18½" - 22" | 14533109 | 14533209 |